Do you feel like you're hitting the limits of the traditional software sales model?  I have some good news for you. The way people buy and learn software has changed forever. They prefer self-education, self-service and they want to get hands-on with your software before committing. Luckily we can use this to our advantage! In this blog post, I hope to inspire you with new ways to scale lead generation, pre-sales, and customer success to move your company toward a product-led growth trajectory. Let's get started!
The Next-Generation of Buyers
Today, Millennials represent the largest demographic of software buyers in the US, representing 60% and growing fast, while Baby Boomers represent only 6%. Millennials are less likely to base purchase decisions on analyst rankings and reports. (Source: TrustRadius) 
More and more software buyers are self-educating. That brings me to the second point. Today software buyers prefer self-service as part of their buying journey. They do not want to talk to salespeople, look at videos, or people doing fancy marketing presentations.
Getting Hands-on Matters. Software buyers want to see your product. They want to experience your software and see how it solves their specific problems. They even would like to break it before committing or talking to sales.
Democratizing purchase decisions. Decision-making is increasingly shifting to the tech folks rather than management. Enterprises are hesitant to make substantial upfront commitments to test out new products; instead, they want to start small and see how a product fares with their users before signing off on it.
In response to these trends, many software companies are rethinking their go-to-market strategy. The pandemic has accelerated the pivot as it is impossible to fly your sales teams out and provide in-person demonstrations of product benefits that had traditionally been used as one fundamental way of winning over customers' buy-in. To successfully reach a new generation of buyers, some software companies are changing the way they look at selling.
Instead of focusing on sales-led strategies, these "product-led" organizations have shifted their focus towards meeting potential customers in the buying process and making their products easily accessible.
Product-led Growth
Product-Led Growth (PLG) is a go-to-market strategy that relies on using your software as the primary vehicle to acquire, activate and retain customers. "By making it easy for people to experience our products, we transform it into a powerful customer acquisition model." Wes Bush, author of Product-led Growth.  With Product-Led Growth, you can 
Lower the acquisition costs because you are more targeted.

Shorten the length of your sales cycle because your prospects have experienced the value of your product upfront.

Increase the revenue per employee because you lower the cost of acquisition and improve customer retention.
Start by removing the barriers to your product
Great examples include Slack, Dropbox, Gitlab, and Atlassian. They were developed with the product-led approach in mind and have experienced viral growth. Now you might think we are different. Our product is much more complex. We need data and integrations to show our value.  In my opinion, you can still borrow concepts from Product-led to improve your funnel. You can still enhance three areas even when you feel your product is not ready yet and push it to the open world!
Lead Generation

Scaling Pre-Sales without hiring

Retention and Upsell
Lead Generation
Offering free trials is a typical lead generation approach for most software companies. However, in most cases, the prospects need to wait to be contacted by a sales team member before accessing the free trial. Letting the prospects jump through hoops or wait around on hold is not the best experience. It will help if you lower the barrier to your product to increase lead generation. That being said, if the free trial doesn't include enough guidance by your sales team or you don't have relevant use-case data for your prospects to consider, then they're likely to drop off quickly. They could disqualify your product from consideration because their expectations are not being met in the first place.
What can be done?
You can set up a self-paced free trial (demo) for your prospects with guardrails that include guidance and feedback. Give them space and time to educate themselves about your software without the feeling like they're being sold. You can gather data on how engaged your prospects are. You'll be able to connect the information with your CRM so that you can identify the moment that's best for following up with a sales call. By this point, you'll already have valuable data to drive in-depth conversations with your prospects and answer their most pressing questions. For illustration, check out this example of how Red Hat offers a self-paced demo for prospects to discover the value of Ansible Tower: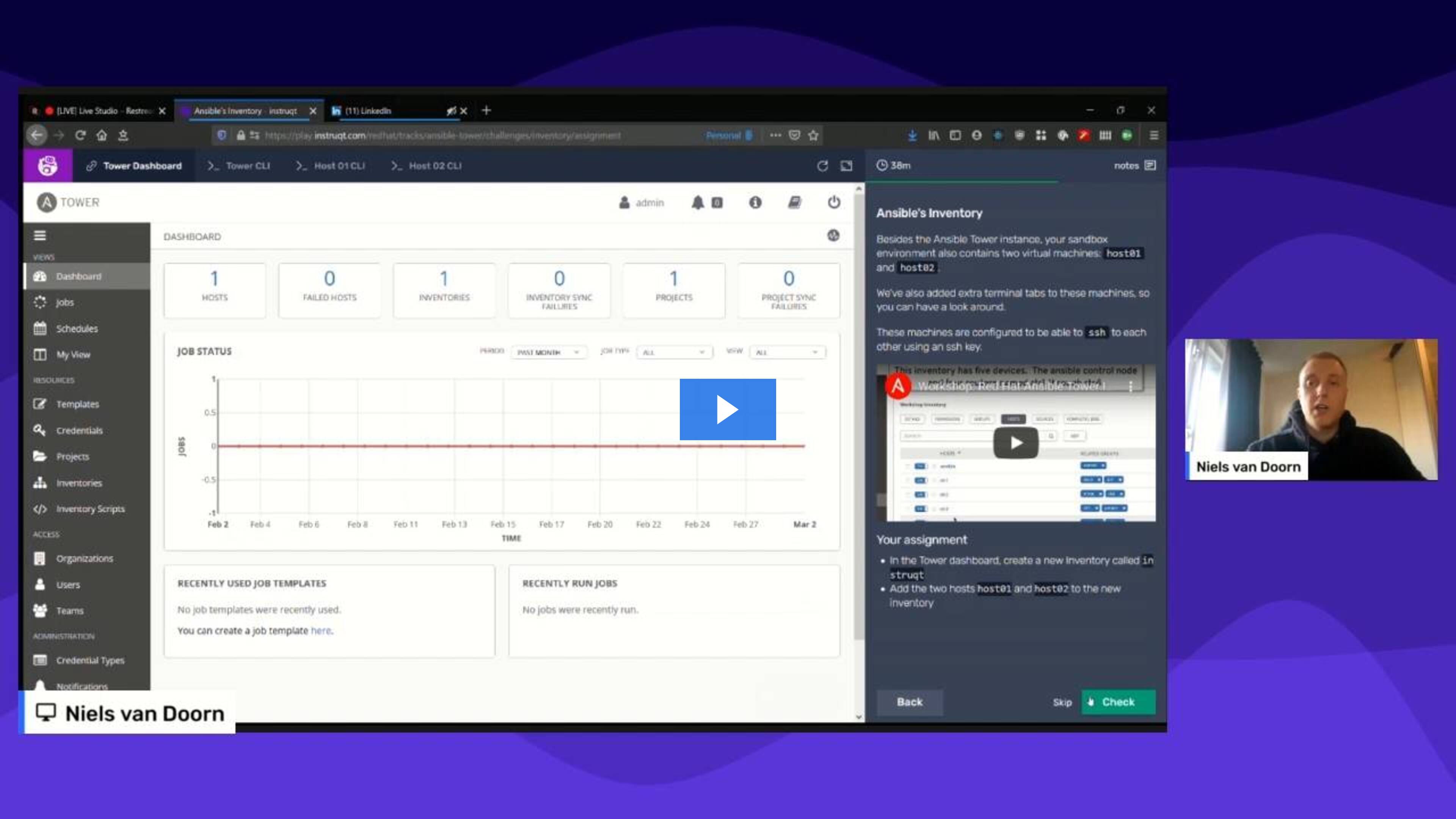 Scaling Pre-Sales Without Hiring
As sales, we all know the importance of the pilot's second phase. During this stage, prospects are trying to validate the more complex technical stuff to see if your product can work with their existing stack. However, many sales engineers are occupied with explaining your product's basic pitch repeatedly to prospects and partners in real life. How can you grow your pre-sales without adding more headcount to support prospects with their piloting journeys?
What can be done?
Offer customers and partners to learn about the basics with self-paced content so you can free up time for the Sales Engineers to focus on the phase 2 pilots and guide prospects to a successful close.  Make your buyers and channel feel like they are being taken on a guided tour of your product by including scenarios that highlight your technology's benefits.  Customize the scenarios according to the industry and target buyers. Give them hands-on experience with the product by allowing them to explore different use cases in a sandbox environment.
Customer Retention and Upsell
The third challenge is product engagement, retention, and upsell. The more innovative your product is, the more you need to educate your customers on its values (we even wrote a blog specifically for this problem, bookmark it for later). Nothing matters more than making your customers understand the value of your software. However, the adoption of new tools and technologies disrupts the habits of users. And traditional learning falls short of getting users excited about the product. 
What can be done?
Customer onboarding's effectiveness goes up when you offer hands-on, guided challenges with your product showing real-world use cases in real environments to practice.  The workforce of today is time-poor and has a short attention span. Use micro-learning and gamification to help people digest information in small chunks. This way, you'll make it easier for customers to understand and consume your product content. When your training includes gamification elements, you can increase engagement with your customers by stimulating their problem-solving skills.
Instruqt Powers Lead Generation, Sales Enablement, and Customer Success
Instruqt was founded by helping people learn new technologies in a new way using gamified learning by doing and bite-sized content. Why did we create this solution? To help people feel more comfortable with the learning process and see the value of a product, rather than feeling overwhelmed or intimidated.  Companies like HashiCorp, Puppet, RedHat, and Google have found this approach highly effective in introducing people to their technologies and boosting adoption.
How to give your product a voice and let your product do the talking.
Let prospects get hands-on with your technology. 
Direct experience with your product is the best way to evaluate. 
Content is king; Context is queen. 
Provide the context to show real-world applications of your technology. Prospects want to see how your product solves their problems.
Use the Storytelling approach.
Jazz up your documentation with guided learning, including scenarios. Break up the steps into bite-size chunks. Spark joy when prospects get to know about your products.  The way people buy software has changed. It's time to acknowledge that buyers want to try and evaluate software in a smooth, frictionless way before committing. And yes, you can meet their expectations throughout the entire customer journey. 
Read how Instruqt can help knock down your product barriers.
Like what you read, get inspired with a real-world example…
Instruqt works with software companies to reinvent the way they engage with customers.  Read Hashicorp Case Study
Want to explore more?
👉 Take Instruqt for a Test Drive.
Let us show you how you can accelerate adoption and upsell by enabling your buyers to try and evaluate your software in a frictionless way.

👉 Learn how Instruqt can help you exceed your revenue goals
Download our Hands-on Labs brochure
In closing, I would like to leave you with the famous words of Steve Jobs when he introduced the Macintosh on January  24th in 1984.  …… The products speak for themselves.